Bikes-for-Christmas
January 12, 2016
Ashland County and the Bike Lady, Inc help to provide bikes to children in custody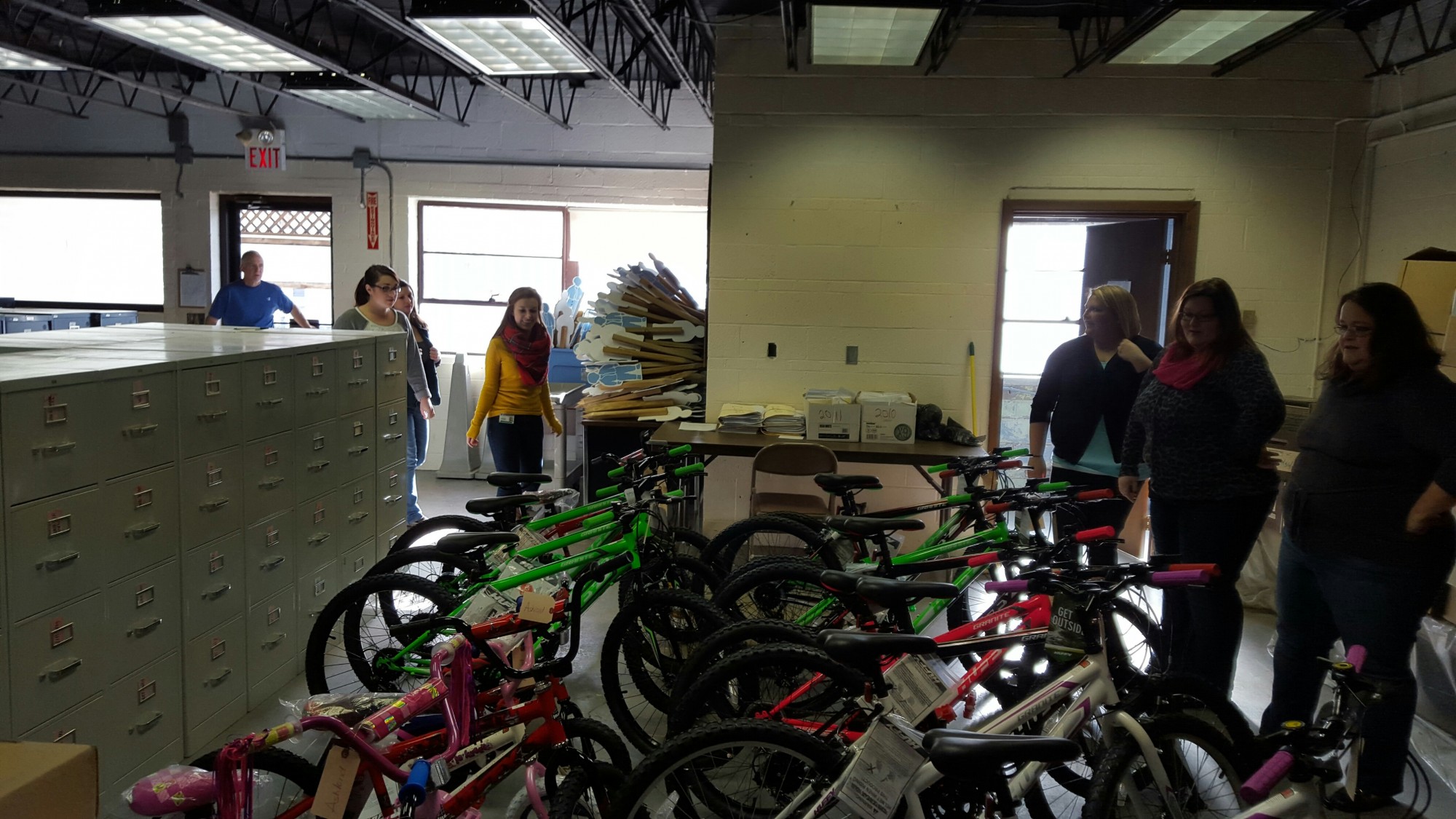 The spirit of giving was certainly in the air this past holiday season and the Ashland County Department of Job and Family Services (ACDJFS) was the proud recipient on behalf of the children they have in custody. Between the Fostering a Smile program through the Ashland County Juvenile Court and the Kim's Korner clothing closet donations by multiple persons, churches and other community business and agencies, ACDJFS was able to provide upwards of 95 children with Christmas gifts as well as assist multiple families with clothing, household items and other necessities. ACDFJS has been very fortunate to have such caring and wonderful people in the community who are passionate about helping children and families. Adding to this wonderful group of people is Bike Lady, Inc., a charitable organization, based out of Columbus, Ohio. Thanks to this organization, 17 children in the custody of Ashland County received brand new bikes and helmets for Christmas. "It is such a great feeling to give a child a gift for Christmas that may otherwise not get any nonetheless a bike! It is amazing to see all the donors who donate to this cause", Traci Foley, a supervisor with ACDJFS commented.
Bike Lady, Inc. is a 501(c)(3) non-profit, volunteer, charitable organization that provides new bikes, helmets and locks to children who are in county custody throughout Ohio and who have experienced some form of abuse, neglect, abandonment, or dependency related issues. Every dollar that is raised goes directly to the purchase of new bikes, helmets, and locks. Their motto summarizes their cause: "Give a kid a bike. Change their life".
Bike Lady, Inc. started in 2008 when an adoptive mother had a vision and a dream to help children in county custody. Bike Lady, Inc. raises money for purchase of the bikes from Huffy and then partners with various prisons around Ohio where the inmates assemble the bikes. In 2008 Bike Lady, Inc. raised money and gave 125 new bikes in one county to children in custody of that county. When Bike Lady, Inc. expanded to other counties in 2012 to serve 8 counties, the organization raised enough money to buy 1, 146 bikes. To date "Friends of the Bike Lady" have given 6,477 children in county custody across 30 counties brand new bikes, helmets and locks typically during the holiday season. The goal for 2015 was to pride 1,500 children with bikes, and the organization exceeded that number as they were able to provide 1,655 children with new bikes and in 32 counties, Ashland County being one.
If you would like more information on Bike Lady, Inc., wish to donate or participate in fundraising opportunities, please visit their website at http://www.bikelady.org/. If you would like more information on donating items to Kim's Korner or ACDJFS, Social Services, please contact Traci Foley or Carrie Riley at 419-282-5000.